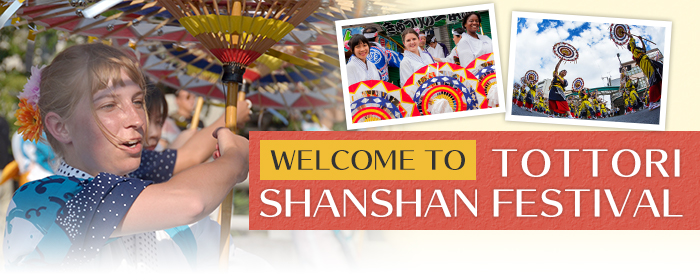 The Shan Shan Festival is Tottoris largest and most popular festival, held in summer from August 13 to 15 every year.
The name "Shan Shan" is an allusion to the sound of the water of the natural hot springs bubbling below the city center, as well as to the ringing sound of the bells hanging from the colorful paper umbrellas.
The "Shan Shan Umbrella Dance" is based on the traditional "Inaba Umbrella Dance", passed down in the eastern part of Tottori Prefecture. The dance is simplified for the festival, so that anyone can easily perform it.
The hightlight of the festival is the umbrella dance parade, locally known as "Issei Kasa Odori", performed on the 14th.
The Tottori city center is colored in the bright patterns of the Shan Shan Umbrellas, while there are as many as 4,000 people dancing in the "Issei Kasa Odori" parade. Seeing everyone perform the dances in sync is the most fascinating feature of this festival.
Event Schedule
What?
Where?
August 13th: Pre-Event
17:00 – 20:30
Suzukko hand bell dance, etc.
Fumon Square
August 14th: Umbrella Dance Parade
16:00 – 21:00
umbrella dance, street stalls, dance workshops, etc.
Tottori City Center
August 15th: Summer Fireworks Display
19:00 – 21:00
fireworks display, street stalls, etc.
Sendai Kawahara Civic Sports Square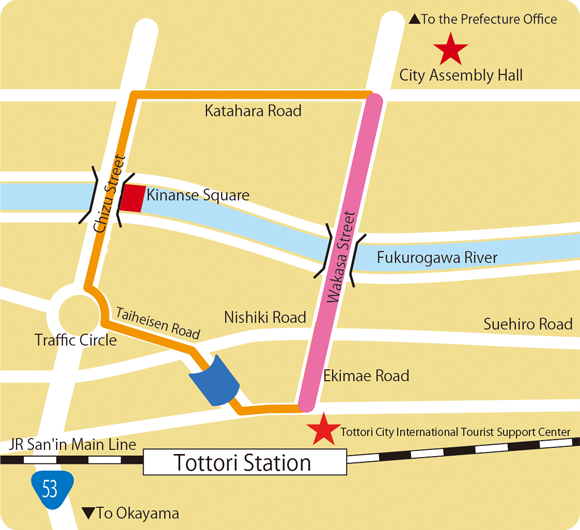 *The dance parade is passing along the pink and orange marked streets.
*The fireworks display will be held at a different location.

By Express Bus
Kyoto → Tottori
approx. 210 minutes
Osaka → Tottori
approx. 180 - 210 minutes
Hiroshima → Tottori
approx. 5 hours and 30 minutes
By Air
Tokyo → Tottori
approx. 75 minutes
By JR
Tokyo → Tottori (Shinkansen + Limited Express Super Hakuto)
approx. 5 hours
Osaka → Tottori (Limited Express Super Hakuto)
approx. 150 minutes
Kyoto → Tottori (Limited Express Super Hakuto)
approx. 180 minutes
Himeji → Tottori (Limited Express Super Hakuto)
approx. 90 minutes
Yonago → Tottori (Limited Express Super Matsukaze)
approx. 60 minutes
Okayama → Tottori (Limited Express Super Inaba)
approx. 110 minutes

Tottori City International Tourist Support Center
111-1, Higashihonji-cho, Tottori City, Tottori Prefecture, 680-0835 Japan
TEL: 0857-22-7935 FAX: 0857-22-7936